UPLAND LANAI LIVING
ON HAWAIʻI ISLAND
ALOHA FROM ʻŌULI
'Ōuli Farms is an 840-acre community offering a unique balance of homes, farms, and club. Located in the Kohala district in the ahupua'a known as 'Ōuli, this land was originally acquired by the Rockefeller family for the Mauna Kea Resort. Today, 'Ōuli Farms will include more than 200 acres of organic farms and a limited number of homes. Each sprawling homesite will feature an acre of open space to cultivate and contribute to the island's local food production.
KONA INTERNATIONAL AIRPORT
A LETTER FROM THE FOUNDERS
Like most good ideas, it started with a walk. We were hiking in the uplands above the Mauna Kea Resort, on the Big Island. Winter had greened up the hillside. The ocean and sky were a borderless blue. And the streams were flowing.
We were crossing land where people once carried resources to and from mauka and makai. The streams we sat beside filled their drinking gourds, and fed the sweet potatoes they cultivated. Now, this last remaining expanse of the Mauna Kea Resort was in our care to envision its next chapter as a community.

Looking across this quite land, still so wildly beautiful, we talked about how to do right by it.

We decided to honor its rarity and allow nature to always take the lead. With homes thoughtfully designed and situated across the natural landscape, open space will be preserved to create a profound feeling of being held by ocean, sky, land, and streams. A place that celebrates the land's heritage and offers a fresh perspective to Hawai'i Island living.
We invite residents who crave a special kind of kinship and simple pleasures, like gathering for sunsets and sharing freshly-picked farm-to-table fare. Those who have a passion for food sustainability, and Hawai'i's future, too. And a spirit of play that inspires adventures from net fishing to barefoot golf.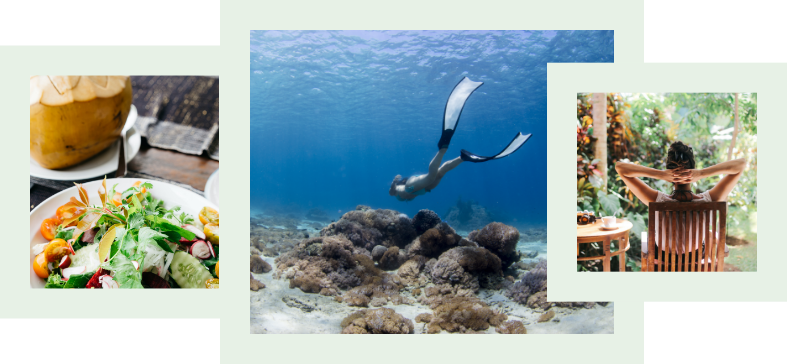 One meaning of ʻŌuli is "a sign in the heavens." And at ʻŌuli Farms, we promise we'll do our best to follow the signs. To keep listening to the land, our island community, and those who will call ʻŌuli Farms home.